Support for TB Control in Developing Countries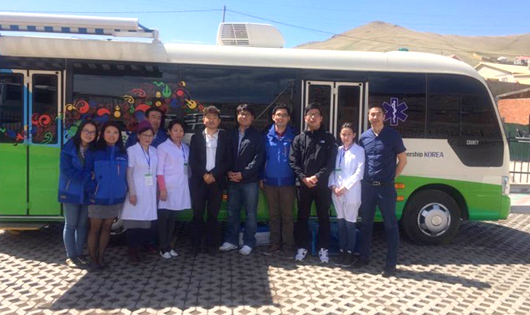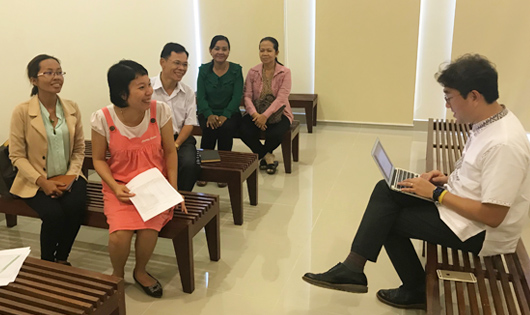 End TB Project in Ulaanbaatar, Mongolia [2015-2019]
TB ranks first in the causes of death due to epidemic in Mongolia, and fourth in the West-Pacific region. TB spreads very quickly in Ulaanbaatar, the capital of Mongolia with the highest population density. Despite its effort to eradicate the infection disease for poor people in the city, people have very low access to medical tests, necessary facilities, and technologies to fight against TB.
The Stop TB Partnership KOREA (Korean National TB Association) is thus working together with Chung Mong-Koo Foundation, Seegene Inc., Seegene Medical Foundation, Korea Foundation for International Healthcare, and L&K Biomed to implement the active case finding project by using mobile screening vehicle, supporting lab facilities with Seegene PCR machines, and providing international/local trainings.
End TB Project in Siem Reap, Cambodia [in Planning Stage]
Cambodia is one of the 30 countries that World Health Organization designated as nations with high TB burden. In addition, as Cambodia is one of the major countries from where immigrants come, the cooperation between Cambodia and Korea to form a TB termination system is imperative. This requires maintaining close relationships with relevant partners, and we especially focus on helping the vulnerable populations including poverty-stricken people and citizens in blind spots of TB control system to fight TB.
Foreign Workers Double Screening Project in Nepal and Indonesia (Pilot Project of 2018)
There have been multiple incidents of deportation among foreign workers who has entered Korea through its employ-
ment permit system because they were diagnosed with TB during medical exams in Korea. To prevent the negative diplomatic effects and entry of TB patients into Korea, this project has been developed.
In 2018, the Stop TB Partnership KOREA (Korean National TB Association) will receive the X-ray images from Nepal and Indonesia when they check Korea bound workers before they depart, and double check for more accurate results.
Double Screening Program for Foreign Workers (E-9 Holders)

Background

- All 16 countries* that signed the MOU on Korean Employment Permit System (EPS) belong to the list of TB high-risk countries designated by the Ministry of Justice of Korea. In this context, with the aim of preventing the influx of TB patients, health check-ups for foreign workers (E-9 holders) from the 16 countries have been conducted at designated local medical institutions before entering the country.
* 16 EPS countries: Bangladesh, Cambodia, China, East Timor, Indonesia, Kyrgyzstan, Laos, Mongolia, Myanmar, Nepal, Pakistan, Philippines, Sri Lanka, Thailand, Uzbekistan, Vietnam
- However, there have been steady cases of repatriation as the foreign workers were found to have tuberculosis even after they entered Korea. Therefore, a double screening of tuberculosis has been conducted before entering the country in order to prevent the imported TB cases and improve the health safety of industrial sites in Korea.

Overall Process

- By introducing a double screening system in the 16 countries under the Korean Employment Permit System (EPS), Chest X-Ray (CXR) images taken by designated local medical institutions are double-checked by specialized institutions in Korea, and the foreign workers allowed to enter the country only if the results of both local and domestic readings are negative.
- Based on our follow-up system, foreign workers (E-9 holders) who have been confirmed to have tuberculosis after entering Korea are repatriated to their home country when the treatment for negative conversion is completed, and workers who have received medical opinions other than tuberculosis are handed over to vocational education institutions.

History and Progress

| | |
| --- | --- |
| 2016 | Korean National Tuberculosis Association (KNTA) and Human Resources Development Korea (HRDK) signed MOU for TB control among foreign workers (E-9 holders) |
| 2018 | Double screening system was introduced in Nepal, Indonesia, and Myanmar as a pilot program after consultation with HRDK |
| 2019 | Double screening system was introduced in Mongolia, Cambodia, and Bangladesh after signing MOU with HRDK and Masan National Tuberculosis Hospital |
| 2022~2025 | Double screening system will be entirely inspected in the existing six countries and will be newly introduced in the other ten countries so that all the 16 countries implement the system by 2025 |

Operating Process of Double Screening System

Current State of Double Screening by Year (2018 ~ 2021)

2018
2019
2020
2021

*

No. of Countries
Results
No. of Countries
Results
No. of Countries
Results
No. of Countries
Results
No. of Double Screening
3
4,683
6
16,940
6
11,365
6
7,293
No. of Confirmed Cases
12
114
50
12

* The number of requests for double screening has decreased as foreign workers were restricted from entering Korea due to COVID-19.

Follow-up Program for Confirmed Cases among Foreign Workers (E-9 Holders) after Entry to Korea

Targets and Overall Process

- Of the foreign workers (E-9 holders), including general and re-entry workers from the 16 countries under the Korean Employment Permit System (EPS), confirmed cases of active tuberculosis, found through the first and second health check-ups at vocational education institutions, are the program targets.
- Once the worker is found to be a confirmed case of tuberculosis, he/she is transferred to a government-affiliated hospital, treated for negative conversion, and repatriated to his/her home country once the treatment is completed.

Process Flow

| | |
| --- | --- |
| Phase 1 | Notify HRDK and the vocational education institution of the incidence of a confirmed case |
| Phase 2 | Inform the employer and related institutions of the case |
| Phase 3 | Transfer the patient to the government-affiliated hospital |
| Phase 4 | Offer him/her treatment for negative conversion |
| Phase 5 | Transfer him/her to the Incheon airport after completing the treatment |
| Phase 6 | Repatriate him/her to their home country (Support the departure procedure) |

Distribution of Educational Video Clips on TB Prevention

- Distribute educational video clips on TB prevention to the 16 EPS countries
- Encourage the foreign workers who signed a labor contract with employers to watch the video clips while they have orientation sessions in advance to build their adaptability and employment competency

Training Program for Health Workforce

- Targeting the 16 EPS countries, plan to invite medical staff from the local medical institutions and health officers from the sending institutions and provide them with a Training Program for Health Workforce in Korea
- Organize the program to be composed of experts' lectures on tuberculosis and other infectious diseases management, knowledge sharing and discussion sessions on the current state of foreign workers' health management before and after the entry, and field trips to the Korean health and medical institutions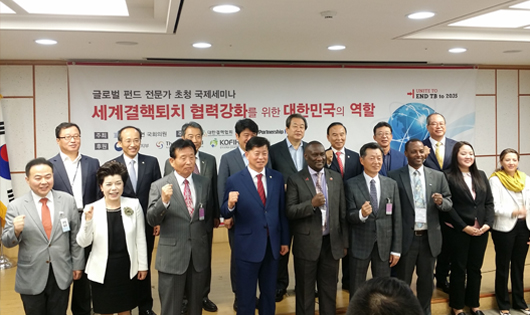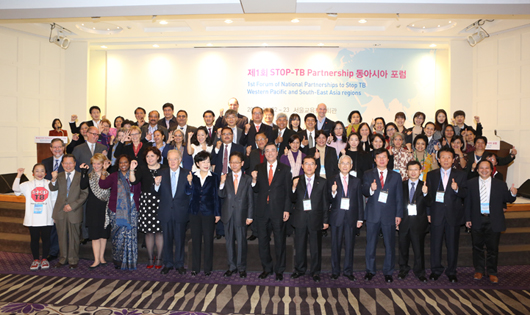 Global Cooperation of Stop TB Partnership KOREA
The Stop TB Partnership KOREA has been cooperating with its global headquarter and international organizations such as the Global Fund, to host international conferences in Korea for global cooperation of TB elimination. At the UNION World Conference and the STOP TB Partnership East Asia Forum, two of the largest meetings related to global TB, our experiences have been shared with various countries and partners. Through such experiences, the Partnership in Korea and its partners around the world form a mutual cooperation system and find out better strategies to defeat TB globally.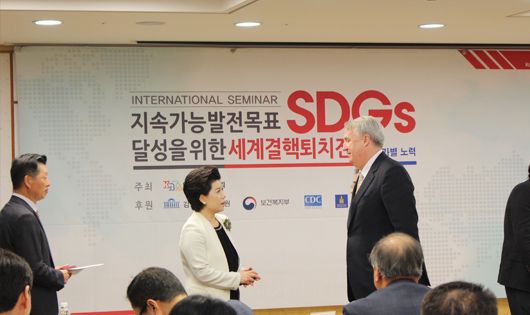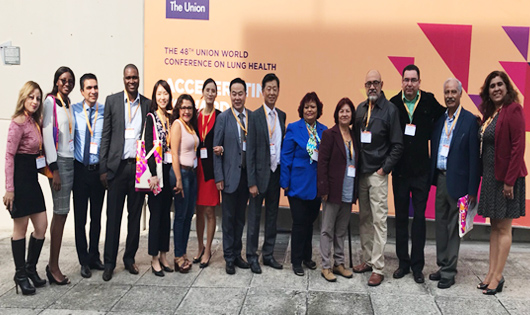 Efforts to End TB by 2030
After the MDGs (Millennium Development Goals) was finalized in 2015, the UN General Assembly approved the SDGs (Sustainable Development Goals) as the new development goals of humanity for the next 15 years. An integral part of the SDGs is the END TB strategy aiming to completely eradicate TB on the planet by 2030. In order to achieve Goal 3 and END TB goals, the headquarter of the Stop TB Partnership is cooperating with overseas partners to coordinate project planning, role sharing, and international expert invitations. They are also holding various seminars and actively participating in the TB Day Campaign to gather as much interests and support for the disease as possible.